Health Systems Agency of Northern Virginia © 2000 - 2020
3040 Williams Drive, Suite 200 Fairfax, Virginia 22031 (703) 573-3100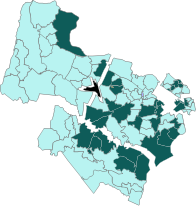 HSANV Meetings & Office Update:
There are no meetings for HSANV in July. Due to Covid-19, no face to face/in person meetings are expected to be scheduled in the near future.


HSANV staff continue to telecommute most days. NVRC/NVTA offices, where HSANV is located, are open on a limited basis.


Covid-19:

Data Charts
Bed Waiver:

Governor Northam issues executive order giving

hospitals and nursing homes

the ability to increase their

bed capacity

without needing prior governmental approval, being issued a new waiver, or going through red tape.
(Executive Order)
Virginia Bed Waiver Requests




Update

: Governor Northam lifts ban on elective surgeries as of May 1

st

, 2020.

Governor Northam Directs Postponement of Elective Surgeries.


2018 Inpatient Use Profiles
Facility and patient profiles for Northern Virginia's inpatient acute care hospitals and residents (by county/city of residence) are now available. Facility here

and County Resident here


Leading Causes of Death
Leading Causes of Death with tables by PD/County/Independent City for Virginia residents (Excel file)
Reminder: We Moved
The Health Systems Agency of NVA moved to:
3040 Williams Drive, Suite 200
Fairfax, Virginia 22031 More . . .




Facility Profiles:
Hospital inpatient utilization profiles for all Virginia acute care hospitals:
County Profiles:
Inpatient acute care patient use profiles for all Virginia residents by county of residence:
Summary Demographics Table for NVA Counties
Trend Charts Virginia Health Planning Regions:


Information Sources on Covid-19
Upcoming Meetings
(Teleconference Only)
Contact Information & Directions to HSANV Offices