Health Systems Agency of Northern Virginia © 2000 - 2021
3040 Williams Drive, Suite 200 Fairfax, Virginia 22031
Phone: (703) 573-3100 Email:hsanvstaff@hsanv.org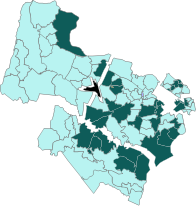 HSANV Office Status:
No face to face/in person public hearings, board or committee meetings are expected to be scheduled in the near future. HSANV staff continue to telecommute most days. NVRC/NVTA offices, where HSANV is located, are open on a limited basis.


Recent COPN Program Updates:
Reminder: We Moved
The Health Systems Agency of NVA moved to:
3040 Williams Drive, Suite 200
Fairfax, Virginia 22031

More . . .


Covid-19:

Data Charts

Historic Inpatient Trends:
Beds, Days, Occupancy and ED Visits


Population Demographics 2019 ASC Survey


2018 Inpatient Use Profiles
Facility and patient profiles for Northern Virginia's inpatient acute care hospitals and residents (by county/city of residence) are now available. Facility here

and County Resident here


Leading Causes of Death
Leading Causes of Death with tables by PD/County/Independent City for Virginia residents (Excel file)








Facility Profiles:
Hospital inpatient utilization profiles for all Virginia acute care hospitals:
County Profiles:
Inpatient acute care patient use profiles for all Virginia residents by county of residence:
Summary Demographics Table for NVA Counties
Trend Charts Virginia Health Planning Regions:


Information Sources on Covid-19
Meetings & Public Notices
Members of the public are able to listen in on the HSANV Board's teleconference on the above project on Thursday, January 7,2021 at 7:30 P.M.

Call in Number: 866-316-1519 Pass Code: 46987027


Note: Due to changes in the COPN process this meeting is being held on a Thursday rather than the typical Monday to adhere to the required timeline.