Health Systems Agency of Northern Virginia © 2000 - 2020
3040 Williams Drive, Suite 200 Fairfax, Virginia 22031
Phone: (703) 573-3100 Email:hsanvstaff@hsanv.org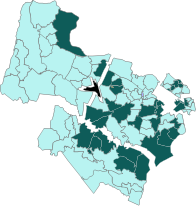 Due to Covid-19, no face to face/in person meetings are expected to be scheduled in the near future. HSANV staff continue to telecommute most days. NVRC/NVTA offices, where HSANV is located, are open on a limited basis.


Covid-19:

Data Charts
Reminder: We Moved
The Health Systems Agency of NVA moved to:
3040 Williams Drive, Suite 200
Fairfax, Virginia 22031

More . . .


Bed Waiver:

Governor Northam issues executive order giving

hospitals and nursing homes

the ability to increase their

bed capacity

without needing prior governmental approval, being issued a new waiver, or going through red tape.
(Executive Order)
Virginia Bed Waiver Requests
(Order 52)




2018 Inpatient Use Profiles
Facility and patient profiles for Northern Virginia's inpatient acute care hospitals and residents (by county/city of residence) are now available. Facility here

and County Resident here


Leading Causes of Death
Leading Causes of Death with tables by PD/County/Independent City for Virginia residents (Excel file)




Facility Profiles:
Hospital inpatient utilization profiles for all Virginia acute care hospitals:
County Profiles:
Inpatient acute care patient use profiles for all Virginia residents by county of residence:
Summary Demographics Table for NVA Counties
Trend Charts Virginia Health Planning Regions:


Information Sources on Covid-19
HSANV Board Education Session

Conference Call
October 12, 2020
7:30 P.M.


Members of the public may listen to the October 12, 2020 meeting:
Call in Number: 866-316-1519
Corrected Passcode: 46987027